I'm Jyotica, a voice artist and storyteller. I love bringing stories to life with my voice, helping people create meaningful connections with the words they hear. My voice has made its mark on a range of projects, from children's stories to middle-aged narrations.
Voice acting came almost naturally to me even when I was playing the role of a Management Professional. Being an ex-marketer with relatively extensive experience in the areas of strategic planning, market research, creative development and media planning, has helped me to understand the nuances of the profession on both sides.
I pour my heart and soul into every project. With a wealth of experience under my belt, I'm all about creating quality audio content that resonates with listeners.
I've had the privilege of working with some pretty big names, including Amazon, Google, Facebook, Elsevier Inc. amongst many others. I believe that their trust in my work speaks volumes about what I can do.  I can modulate my voice to
Rich Clear for E-learning, IVR
Pleasant, Conversational and Believable for  Corporate films, Dubbings, Voice Impersonations
Fun for Animation, Storytelling
Warm & Deep for Narrations
Authoritative, mature and professional for Presentations & Trainings.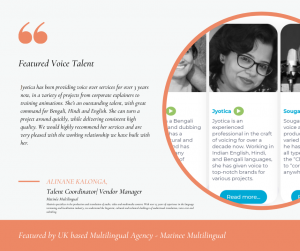 An experienced professional in the craft of voicing for over a decade now, I work in English (Transatlantic & Indian Accent), Hindi and Bengali languages.
My workspace is a Broadcast Quality Professional Studio Setup with an acoustically treated 5*5 portable booth built by a professional team. The recording studio is equipped with:-
Rode NT2a microphone
Audient EVO4 audio interface
Audio Technica studio monitoring headphones 
Multi-track audio editor and recorder – Audacity
Remote recording powered with Source Connect solution connecting with studios globally